Blog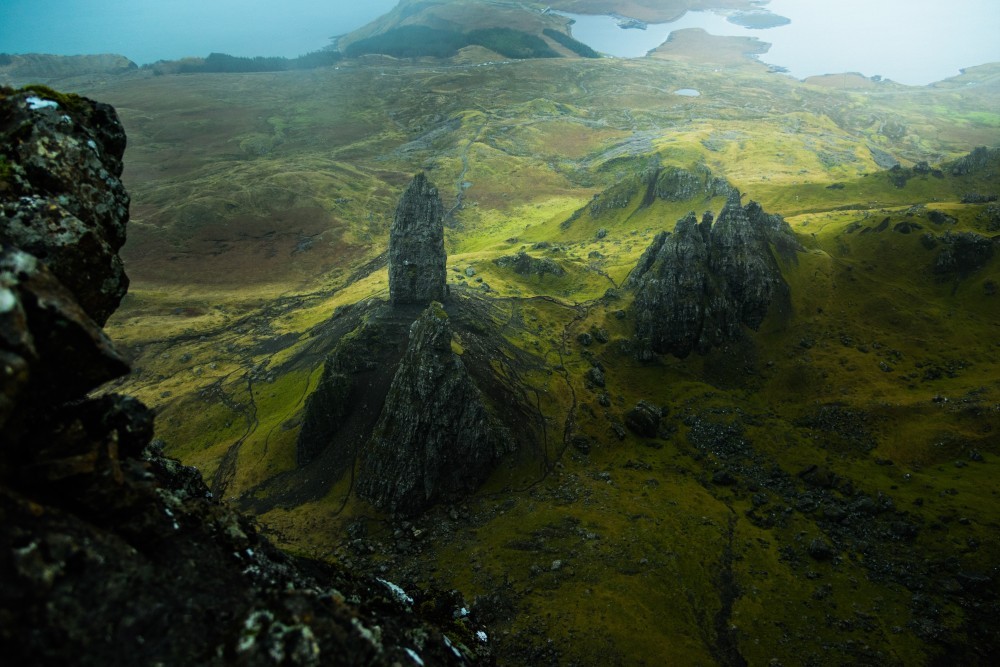 OLD MAN OF STORR - ISLE OF SKYE

This time I was spontaneously drawn to Scotland for a few days. I somewhat had a desire for a bit of snow and hoped to find it in the Scottish winter. Although no snow came in sight my heart was pounding with anticipation when landing in Edinburgh. I directly went to the Isle of Skye. Two trails in the Highlands kept me reasonably busy for two days. There was not a sole beam of sun around and no real structures in the clouds - but the pictures which came out were astonishing. My personal highlight was the wonderful "Old Man of Storr" which is a grimly looking notorious pinnacle well-known at the Isle of Sky. I had contemplated the Old Man's face from different ankles and sides before pressing the button - what magic giant rock formations coming out of our wonderful earth in this magic landscape.

I was such a lucky man. No herds of people around on that very day and having the quietness of the Highlands just for myself. I am sure I will come back in summer. I want to see the green Scottish Highland plains and the sparkle in the clear Highland waters. Have a wonderful 2019. I hope you had a similarly magic start into the new year.


Stoneman Trail in the Dolomites, Italy

In August 2018 me and two friends headed for a 2-day mountain-bike trail in the Italian Dolomites. We were confronted with dry but cloudy and kind of mutable weather. Seen through the eyes of a photographer, worthy motifs often shine with intriguing contrasts. This motif shows these almost magic and unbelievable shadows, which crowned a day, when we hadal ready covered 50 km and an altitude of 1500 m. It seems as if a giant eagle moves its wings approaching. One even could think of a primeval entity, an idea, which gives a kind of timelessness to this image. We felt to be fallen out of time for a very precious moment, fully absorbed as a part of these wonderful surroundings. It was one of the finest hours in Landscape Photography I experienced in the mountains, when nature shows its full potential of combining certain elements of a most ephemeral character. How wonderful to catch such a moment.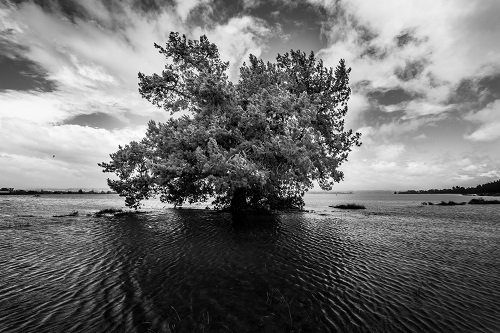 New Zealand, Rabbit Island, Southern Island

Being a photographer, sunny episodes are not always the best weather conditions for me. In New Zealand in February 2018 is was a storm, which offered me unbelievable opportunities for unique Black & White images in its aftermath. The very special landscape of Rabbit Island in combination with windy weather really put a spell on me. These conditions led to photos, which almost have a magic twist and show the elements such as water and wind in full power. I know, that sometimes it is not recommended to walk around in stormy weather. I always trust my instincts here. Often, I am rewarded by wonderful images of clouds and light. When somehow possible, I go outside and look around - attentive and relaxed at once. With open eyes, magic motifs are found nearby. Also, I enjoy the power of the elements such as wind and rain very much. They make me feel alive.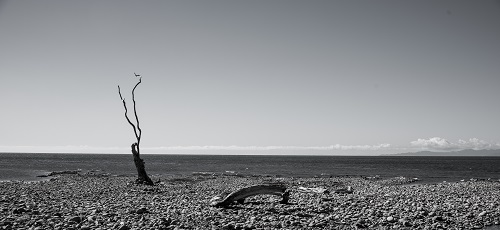 New Zealand, Golden Bay, Southern Island

When travelling to New Zealand just by myself in February 2018, I looked for the very special places. Covering a lot of distances afoot, I found several opportunities for awesome motifs. Especially peaceful locations. which did not collide with the typical tourist routes, took my attention. I often expressed the lonely and queer atmosphere of such places in Black & White. Leaving colors out brought the fascination of natural surroundings to the peak. New Zealand's wideness cannot be better expressed. The peacefulness of the quiet environment also gave me the time I needed to get the best views and find the best perspectives. This photo is a good illustration for my quest to get to heart of this unique landscape and devote my work to New Zealand's beauty. I never regret taking the time I need to make my photos - the results speak for themselves.


New Zealand, Golden Bay, Southern Island

This part of New Zealand can be a very stormy place. On one of the first days of my February 2018 journey to New Zealand, I explored Tessa Island afoot. I had been advised not to walk around with heavy winds being active. I could not resist to feel nature's power and beauty. I often made the experience, that the best motifs in Landscape Photography can be found when I listen to my gut instincts. That special day in New Zealand is a good example. I literally tripped up on that awesome view of a dunescape, which could be only discovered moving afoot. When I have the choice, I generally prefer walking around to driving around. Walking afoot gives you a closeness to the motif in the landscape, which cannot be achieved by using other types of movement. I love to feel the wind and taste the air, while taking photos of utmost authenticity.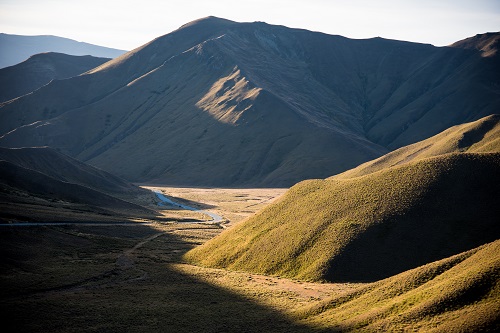 New Zealand, Somewhere at the Nothern Island

This panorama in New Zealand February 2018 enchanted me so much, that I had to honour it with a s photographic landmark. I was on my way on a highway looking for a terrific sunset view. I found one, but this scene took my attention before sunset. For me, the magic of this place with no other cars or tourists around seems to be just to be out of another world for its wild and impressing beauty. My last view on that highway. I am always happy that Landscape Photography makes the means available for me to catch such precious moments for eternity. This blue planet we live on has so many different faces and looks, it always ascinates me to preserve them using photography. This photo does not have many colors, but it takes the magic out of light and shadow. It somehow has the first impression of a painting and transcends photography in a way.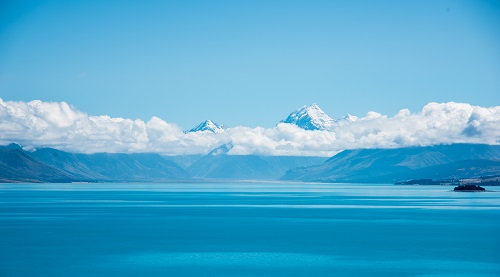 New Zealand, Mount Cook/Lake Pukaki,
Southern Island

Bringing back another experience of my February 2018 journey to New Zealand, I remember a day on the Southern Island in the area of Mount Cook/Lake Pukaki. This part of the trip consisted of a long strenuous ride by car for hours on that remarkable day. Finally, I reached Lake Pukaki, where I spent the night. An unbelievably beautiful view let me forget the exhausting drive and fully compensated me for taking this strain. A motif of Landscape Photography at its best could be added to my New Zealand portfolio. After a great night at the lake, I surrounded it the next day by foot - happy to have escaped the dull, limited space of the car and looking for more awesome motifs of the area in which New Zealand's highest mountain is situated.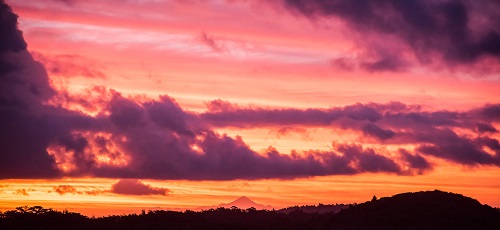 New Zealand, Mount Ngauruhoe, Northern Island

The Mount Ngauruhoe on New Zealand's Northern Island is an active volcano and has earned some reputation as impressive scenery in Peter Jackson's epic trilogy Lord of the Rings. I spent one month in New Zealand in February 2018. Performing the Tongariro Alpine Crossing one day, I covered about 25 km. I have never felt the distance on the trail because of the fascinating surroundings and the gorgeous weather. They gave me a feeling of lightweight and endless energy. A splendid, almost cloudless warm day was coronated by a most beautiful golden sunset.
Somehow, I live for these special moments in Landscape Photography, when you not only reach your destination but also fulfill your photographer's task in this one worthy moment. Of course, New Zealand left a mark on me. You never forget such examples of nature's beauty which seem to focus all in one place. And New Zealand has so many fascinating faces.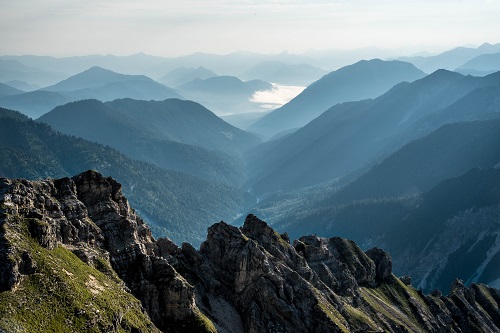 Early Morning in Germany, Bavaria,
Karwendel Mountains

One night in August 2016 I ascended to the Signalkopf- Signal Head, which is situated in the Mountains of the Mittenwald area in the Karwendel Mountains. The Mountain has several names such as Bavarian Lion, Bosom (of the Sleeping Witch) and Middle Red Oven. Later in the morning this stunning view opened on the so-called "Schöttelkarspitze". So not only sunrise and sunset stand for beautiful images. This motif is a symbol of fortuitously Landscape Photography, which can suddenly come up with most captivating views and light conditions purely by chance - with every step in the mountains. It just needs open eyes and an alert mind as well a little patience, and finally a relationship with nature to tune in this perfect atmosphere you only find here. As my grandfather took me into mountainous surroundings from an early age on, I seem to have always felt this special call of the mountains.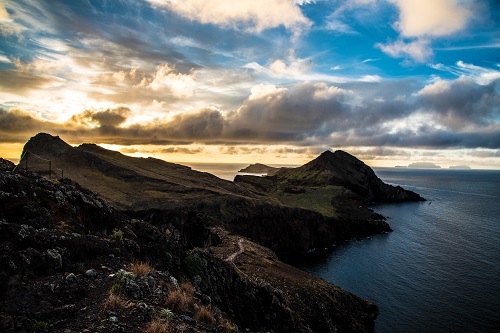 First Morning in Madeira, Portugal

In March 2016 I spent two weeks on the beautiful Portuguese island Madeira. Always alert to find an impressive photo subject to further complete my collection of Landscape Photography, the island took me by surprise. When waking up in my bedroll on the first morning, I was confronted with this breathtaking panorama of hillsides and rocks lurking into the sea. With the dawning sun in the background, Madeira promised me a very special stay right from the start. It was one of these moments, when the photographer becomes one with the motif and the natural surroundings at once. Madeira kept its promise and conveyed an experience of magic which only this very island has to offer. It is situated some 1000 km south-east of Lisbon in the Atlantic Ocean. Its mountainous landscape of mostly volcanic origin left a deep impression on me. Madeira once, is always Madeira - it cannot be easily forgotten and provided mewith images of uppermost beauty and awesome natural surroundings in my mind, as well as in my photo collection.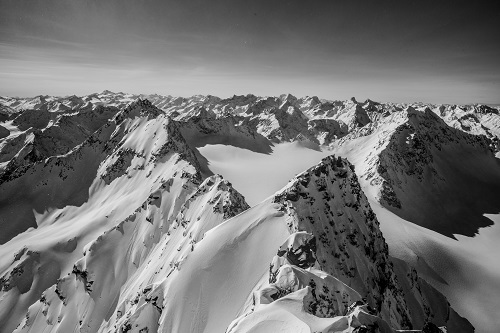 Austria, Tyrol

In February 2016 I fell in with a group of extremely athletic skiers in Austria. They literally sprinted to the peak and left me - having quite a gift for sports as well - always behind. We finally came together again during the descend. Although physically pretty challenged by my hardcore company and most of the time about 15 minutes behind, I was able to take this impressive view of the Alpine landscape in elegant Black & White. Using only two colors and its different shades always reduces the photo to the core - for me one of the best ways to save awesome natural surroundings as mountainous landscapes in photography. The pureness of the image almost makes you taste the clear mountainous air and let you feel the coolness of the icy environment by just watching the photo.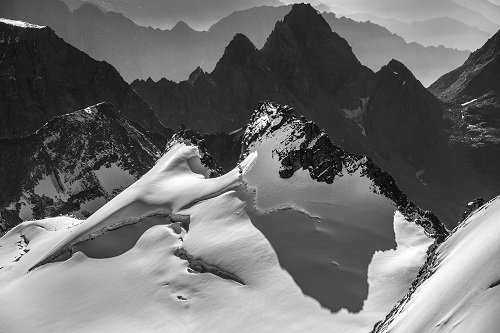 Italy, Grand Paradiso National Park

I remember one day in August 2015: At 3 o'clock I ascended the Grand Paradiso in Italy. In a group of 4, we were the first that day on the peak. Sunrise was awesome, but the real thing came up later in the morning when light conditions turned from good into great. I just had to release the shutter and caught this beautiful moment provided by mother nature itself. Black & White is imperative for that motif. It expresses the dignity and greatness of the Alpine panorama most convincingly. I can hardly describe the elation one feels, when getting the opportunity for such a motif. Honestly, I hardly cannot get enough of it and am never too tired to ascend the most strenuous peaks just for moments like this - having the real motif just in front of me.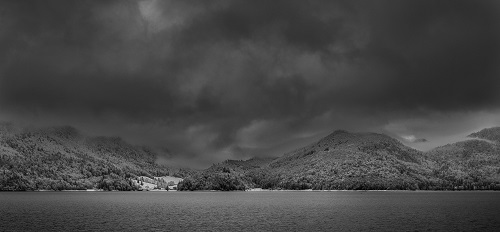 Germany, Bavaria, Walchensee

I had left for Walchensee in Bavaria in January 2015 for a promising ski trip. Unfortunately, there was not enough snow for skiing. What shall I say - I was lucky under the circumstances. No skiing, but most remarkable Black & White motifs such as this unsettling cloud formation. I rarely found clouds which such a strong and almost metaphysical appearance. Water, mountains and clouds form a massive and powerful entity of their own. For me, these clouds seem to be alive - having a dark soul and a strong will which even touch the dignified mountain peaks. The trip left an impression, although I had to change my plans. I happened to find ideal light conditions for b/w photography and went home not regretting a minute I had spent there. It sometimes happens to a photographer that things take an unforeseen turn for good. So is has become one of my mottos to adjust to life and its surprises, which always have a special opportunity in it.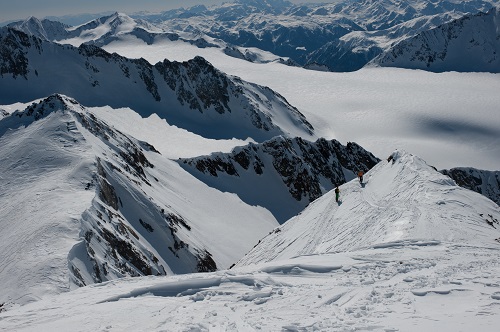 Austria, Ötztal - Schalfkogel

A certain weekend in March 2014 found me and 5 friends in Austria on a ski-trip. The trip regionally centered on a special hut in the Ötztal area. It was a physically demanding tou, which made us cover a peak and an altitude of 1000 m per day. But a dreamlike descent was the well-earned reward for a strenuous ascent. In German, we call this "Gipfelglück" - happiness at the summit. I often remember this special weekend as a wonderful experience of the mountainous surroundings and its natural beauty. It also provided me with great Landscape Photography, such as this awesome panorama showing the impressive Alpineworld. Although the mountain peaks seem to communicate pure strength and dignity, they always remind me of the vulnerability of the mountainous environment, which should be protected at all means for future generations.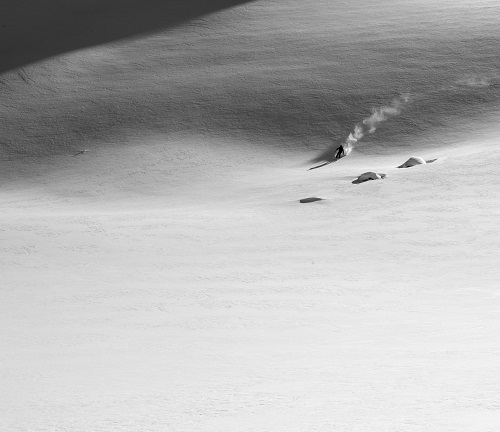 Austria, Tyrol, Stubaier Alps

In February 2014 some friends took me to a skiweekend in Austria. We centered in the Amberger hut. The fantastic weather conditions with some windy falls near the peaks gave us many opportunities for excellent descents - in the group and apart from the other skiers enjoying the loneliness of the Alpine landscape. Of course, I took some photos such as this ferocious descent in Black & White. Often, I focus on the landscape itself, when looking for worthy motifs. But sometimes, especially dynamic human movements, which elegantly integrate into the natural surroundings, tempt me to image them. This descent is a typical example. The skier stresses the giant wideness and void of the Alpine environment. How small we humans are compared to this impressive mountainous world.